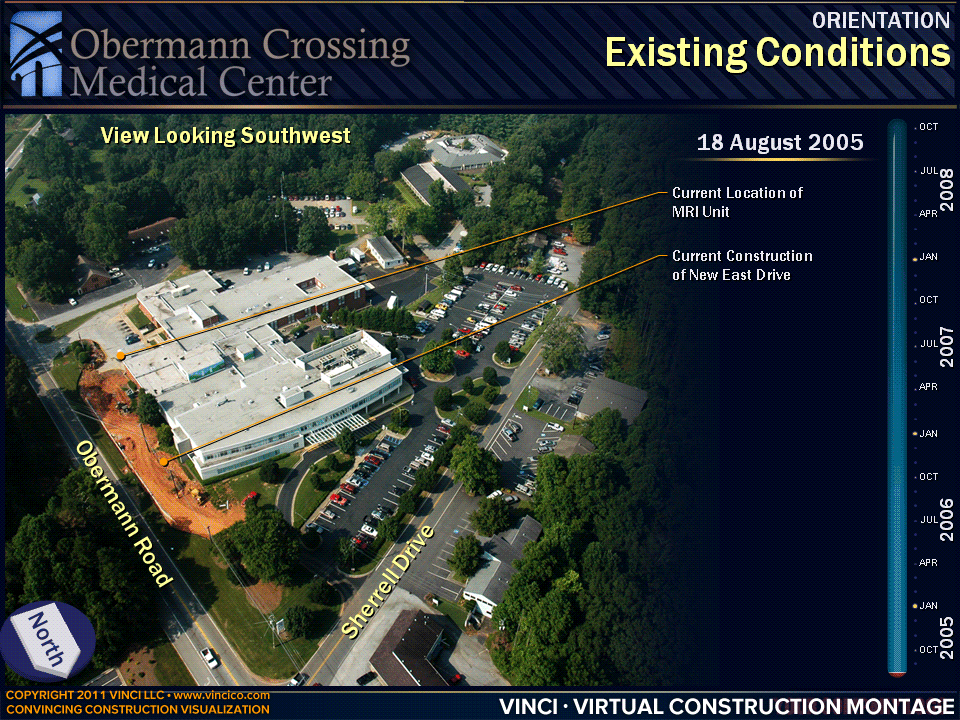 Vinci Virtual Construction Montage™ | Annotated 4d General Worksite Overview
The annotated 4d overview montage points out key worksite activities throughout the construction schedule. This arrangement can contract any logistics or schedule topic during your company's interview, allowing your personnel to weave in a marketing message while preliminary thoughts regarding the worksite are visually communicated to the audience. Annotated sequences facilitate your team's rehearsal. If your company decides to leave behind a copy of the presentation, or if your presentation regards user group or community relations, annotated overviews are ideal.
Vinci's Virtual Construction Montage™ service is your shortcut to efficient and economical convincing construction visualization. Digital modeling is minimized in this example; context is conveyed by a pair of oblique aerial images. Conditions not visible from the main view are picked up by the alternate. Vinci VCM™ works best when your team is sure of its message and when the project is simple enough to take in most important construction activity from one direction. The montage technique is used also in the production of Vinci Vignettes™. If you're facing a more complex, multiphase project or need to show your very best effort, try Vinci's Digital Worksite™ service.

This page last modified Tuesday 19 March 2013.