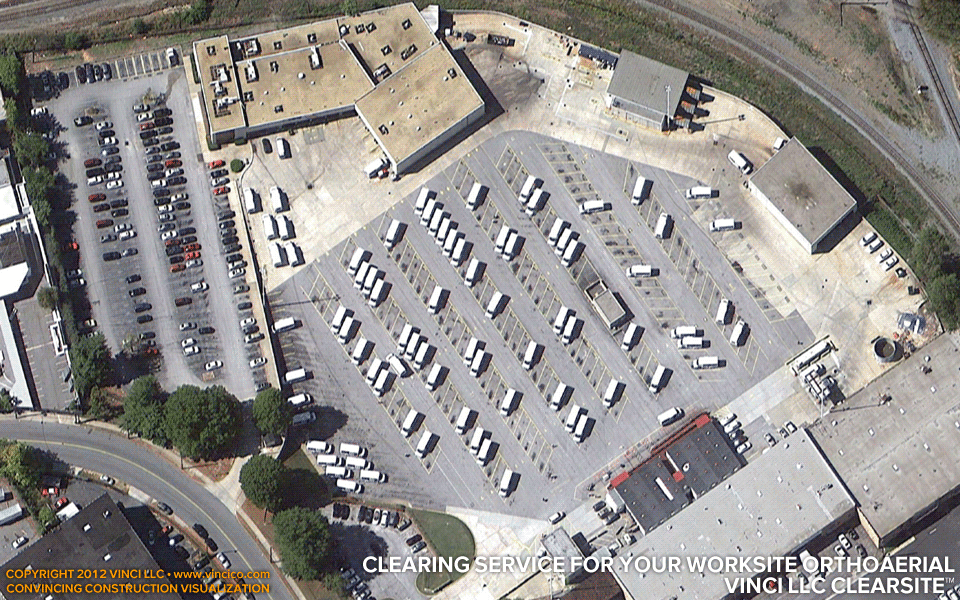 Vinci ClearSite™ | Optimizing Construction Visualization
Vinci LLC selects the clearest orthoaerial photo of your worksite, bringing it up to date and clearing it of clutter so that the final work communicates your construction message clearly and convincingly. This example shows the knee-jerk orthoaerial from a major search engine conglomerate's digital atlas. While these images are fine and sometimes as good as it will get, in many metro areas Vinci LLC can tap other resources and get low-altitude aerial imagery at 4 inches per pixel or better. These images tend not to be washed out by high altitude haze, with stark shadows that distract the viewer. Vinci LLC's ClearSite™ service strips the worksite of vehicles and buildings so that the digital terrain appears as one would expect. The result is a clear and clutter-free base for your worksite. You minimize the noise and glare during your interview presentation, why wouldn't you start with the clearest worksite base imagery? Theater companies wouldn' start their performances on a cluttered stage, movies have clear sets; why would you start your pitch with a lot full of cars or buildings that are going to be demolished? Choose Vinci ClearSite™ and reduce your audience's confusion. See detail of this ClearSite™ image here.

This page last modified Thursday 24 May 2012.