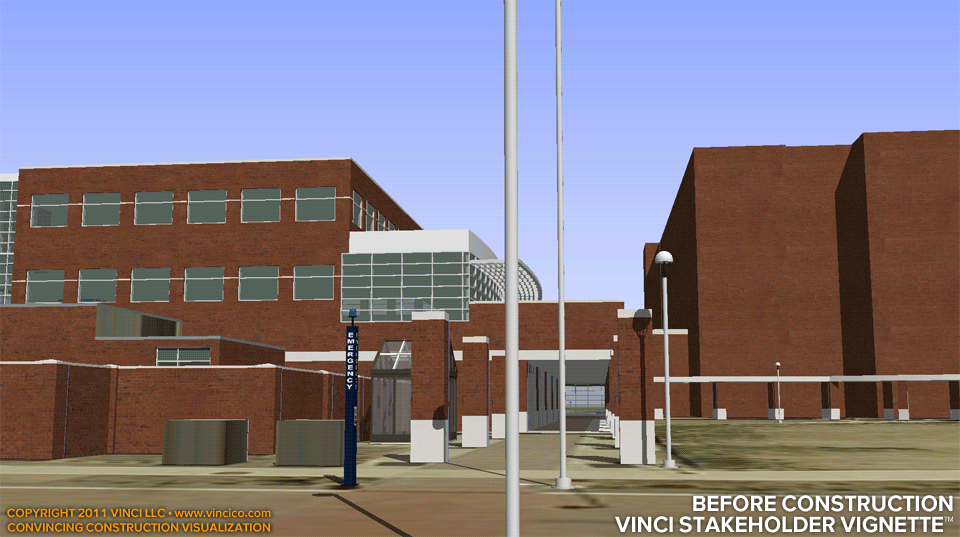 Vinci User Group Vignette™ | Cancer Center Addition | Medical Pedestrial Artery Reroute
The medical center Owner is usually highly sensitive to the needs of its staff and critical care personnel. Medical centers are frought with pedestrian arteries, paths taking doctors and patients, visitors and staff to key areas for service. Construction can involve the need to alter the routine paths folks have grown accustomed to over the years, to accommodate construction operations, or simply to provide a safer route. These changes can make a difference in critical care. The Vinci LLC vignette is a method by which you can communicate your construction strategy clearly, convincingly, and in a manner easy to interpret by the audience. This vignette illustrates how the builder intends to handle a staging area near a pedestrian artery. A cancer center occupies the left half of the scene. The cancer center is to receive an addition, thus the builder suggests a temporary protected rerouting of the artery. Take a look at the cancer center addition construction or a bird's eye view of the staging area.

This page last modified Monday 10 October 2011.