LOCATION:
Midwest USA
YEAR PRODUCED:
2015 Q2
VINCI CLIENT: SMW ⇒

CONST. VALUE: ⇒
2 ••
CONST. SCOPE: ⇒
2 ••
VINCI PROJECT LEVEL: ⇒
1½ •·
DEVELOPMENT TIME (DAYS): ⇒
6 ······
SURGE INTENSITY (%): ⇒
0%
VINCI FEATURES
Vinci Digital Worksite™ ⇒
Vinci SurePlan™ ⇒
Click the "⇒" symbols above for more information on these terms and metrics. Click the "→" symbols for examples.
Similar Projects:


A9247 RETAIL
OWNER ⇒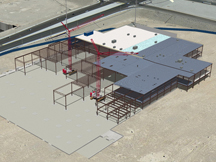 R93BB RETAIL
OWNER ⇒


R95A4 RETAIL
OWNER ⇒
Retail Roadshow.
A European retailer continues its spread into North America. A successful builder looks to bring their expertise to a new location.
Click the images on the following menu to view the examples:

General 4d Construction Worksite Overview

A view of all major construction activity across the entire schedule.

Field Office.

Field office, staging, and laydown area per directive.

Field Office.

Alternative views of the field office and main gate.

Vinci · Behind the Scenes
4d Phasing Check.

Preliminary schedule & phasing check.
This page last modified Thursday 10 December 2015.