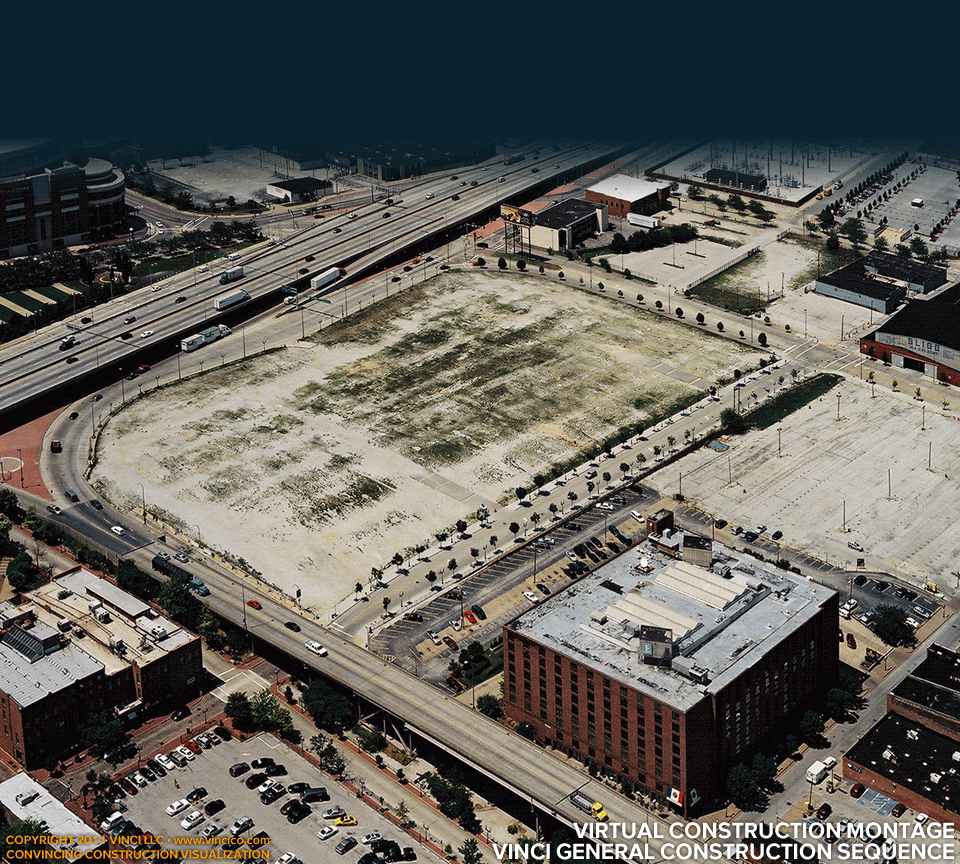 Vinci Virtual Construction Montage™ | General 4d Worksite Overview
This is a brief synopsis of construction activity for a casino and hotel complex in a major metropolitan downtown area. From this single vantage point, all major construction activity is visible. This project embodies cast-in-place concrete and structural steel framing. The tower has a unique design that was still under development and not fully resolved by the architect at the time of the production of this illustration. Vinci LLC assisted its client at the presentation interview. The Owner stated after the interview, "Every interviewee showed models of our project, but Vinci LLC's depiction was the only one that actually resembled our project." Underscoring this sentiment, Vinci LLC produced subsequent work for the Owner. Vinci LLC also illustrated a second casino worksite in 2008.
Vinci LLC's Virtual Construction Montage™ service is your shortcut to convincing campuswide construction animations! Owners love Vinci VCM™ because they are a handy way to communicate planned construction to various user groups like staff, visitors, and customers. Construction companies love Vinci VCM™ because it is an ideal visual aid for healthcare, education, or industrial campus construction interviews. Vinci LLC's VCM™ service is right for your team if you are sure your construction message isn't liable to change. The service works best from a single vantage point. VCM™ is ideal for interview and proposal efforts under tight budgets. See examples of Vinci LLC's Digital Worksite™ projects for healthcare (small, see A8517 or large, see A8373 or A8583.

This page last modified Sunday 13 November 2011.