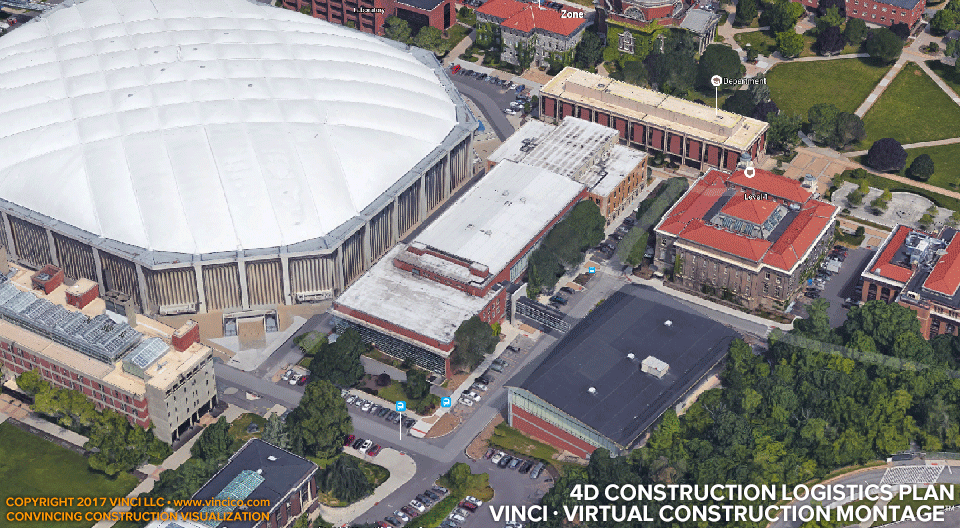 Vinci Virtual Construction Montage™ | 4d Preconstruction Logistics Plan.
Vinci LLC's Virtual Construction Montage™ is one of its longest-running hits. Before immersive modeling (Vinci Digital Worksite™) Vinci rendered 4d preconstruction logistics "by hand", that is, with little assistance from digital modeling. In fact, modeling was to be avoided as it was primitive and clunky. The rendering was "photo-montaged" over an oblique aerial image akin to what a drone would capture today. Nowadays, montage is a handy shortcut, eliminating the need for extensive as-built modeling. This shortcut comes at a price, however. We are more married to a given viewpoint than we are in the Digital Worksite™. Limited modeling means that many of the detail shots are not as easily producible, but we can artfully select what to model given advanced notice and accommodate some of the detail views many of Vinci's long-time clients know and love. These are detail views (1→ 2→) struck from the partially immersive preconstruction model.
Vinci can montage visualization over nearly any image. Many are used to off-the-shelf views and under many conditions this is a handy background.
Check out steel frame, channelization, existing site utilities, or the new sewer. Go behind the scenes to see how Vinci models structural framing from your team's plans.

This page last modified Tuesday 12 September 2017.