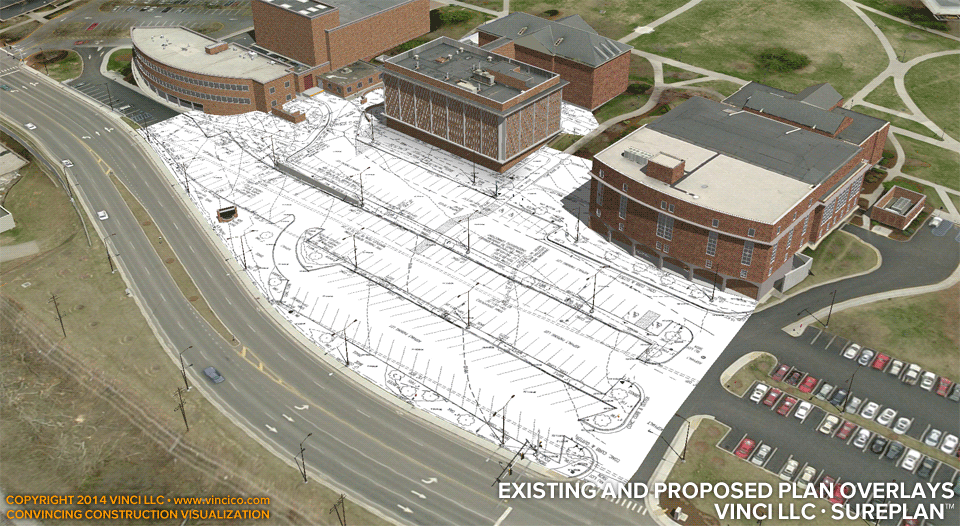 Vinci LLC | SurePlan™ | Civil and Landscape Plan Overlay
Vinci LLC's SurePlan™ technology helps assure the scale of its Digital Worksite™ models, and overlays key elements of the RFP drawings so that your team can speak to the issues with minimal fuss during the bid interview. This SurePlan™ view validates the existing condition, and sets the stage for the development of temporary and proposed conditions on the worksite. This projection of RFP documents on the terrain was shown to the audience to undergird the client's construction method. Most of the time, scale assurance through SurePlan™ is a backstage process. Check out this overlay of the soil boring plan, used to speak to the nature of subsurface conditions, or the SubVision™ view of existing underground utilities.
The SurePlan™ overlay may reveal errors or aberration in the RFP documents thus it isn't always "camera ready". For some audiences, revealing the overlay is a powerful validation of the accuracy of the imagery they are viewing in your presentation.

This page last modified Wednesday 30 July 2014.