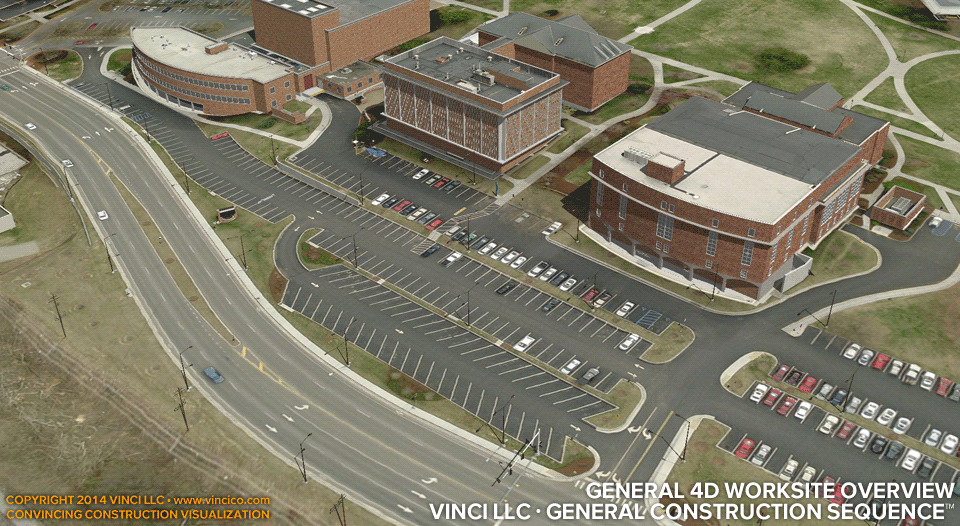 Vinci LLC | General 4d Construction Worksite Overview
A general 4d worksite overview illustrates most or all construction activity from a single vantage point across the entire schedule. This project fills in a courtyard embraced by an existing academic hall. Thus, we can use a general view to take in outlying conditions, then cut to a close up called a 4d worksite detail. Thanks to Vinci LLC's Digital Worksite™, we can take a look at an alternate view or a closeup.
This view takes in an enabling phase involving a utility tunnel, underpinning and excavation, then a second phase for building construction, followed by a third phase for landscaping. Check out the rain garden, terrace planters and parking, and the domed planetarium and green roof. See the rooftop mechanical and screen wall, or the gates and field office. University campuses involve intensive pedestrian traffic, and all communities are interested on the project's curb appeal. Check out Vinci SubVision™ views of underground utilities, and SurePlan™ overlays of some RFP documents on the terrain.

This page last modified Tuesday 29 July 2014.