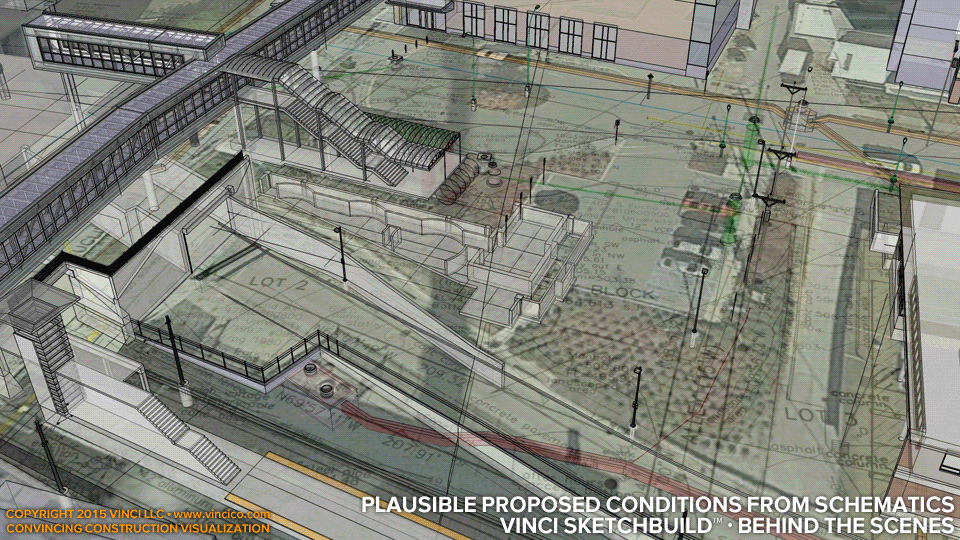 Vinci · Behind the Scenes | Excavation Implications.
Vinci digs into RFP documents, drawings, site photos and aerials to get at what's on and under the worksite. This often distinguishes your team's construction strategy message from the other guys'. Your team sees under and through the earth; they know the flow of traffic on and through the site. They know how to handle legacy conditions and remove old time bad ideas so that the Owner gets into the new building in as pain-free a manner as possible.
This visualization looks onto one end of a worksite bounded by mass transit in the foreground, a skyway, road, and receiving area on the left, a substation off the side to the right, and a campus street in the background. Existing site utilities criss cross the site. An old concrete silo foundation needs to be removed in the center of the image. This site has everything going on and the team knows how to deal with it.
Check out the following pages: More about Vinci SubVision™ (look below ground) and SketchBuild™ (fill in missing pieces in the RFP). See more about context and existing minor improvements.

This page last modified Monday 23 November 2015.