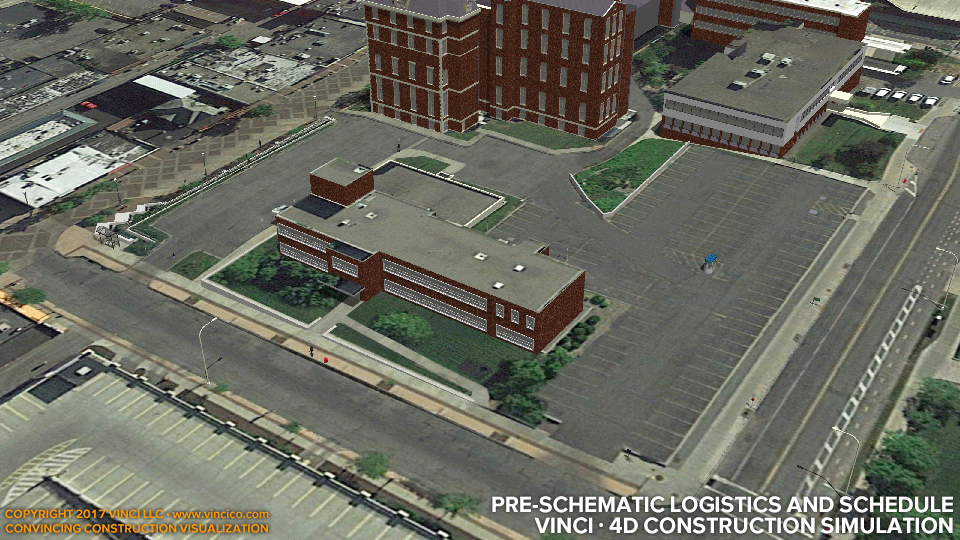 Vinci Digital Worksite™ | 4d Preconstruction Simulation.
Vinci's 4d precon simulations typically proceed like this: Start with the existing condition; people like to start from the start. We use ClearSite™ to get a fresh, clutter-free view of the site, complete with existing major and minor improvements and terrain faithful the the RFP civil site plan when relevant. Then we hit milestones in your construction schedule with stills. Excavation, foundations, structural frame, top out, enclosure, dry in, sitework, then a finished view that attempts to portray proposed conditions as the Owner intends them—especially if the architecture is fussy! All the while, construction is Vinci's focus; temporary conditions and the evolution of the worksite. We join the existing to the proposed conditions; the model is not an as-built record or a slick rendering of the proposed condition. The more convincingly we can do this given the time and budget we have, the better. That way, your preconstruction visuals speak to the audience with minimal interference, clearly conveying your construction marketing or precon message.
Link to other views (1→, 2→), laydown area, delivery chute.

This page last modified Wednesday 13 September 2017.