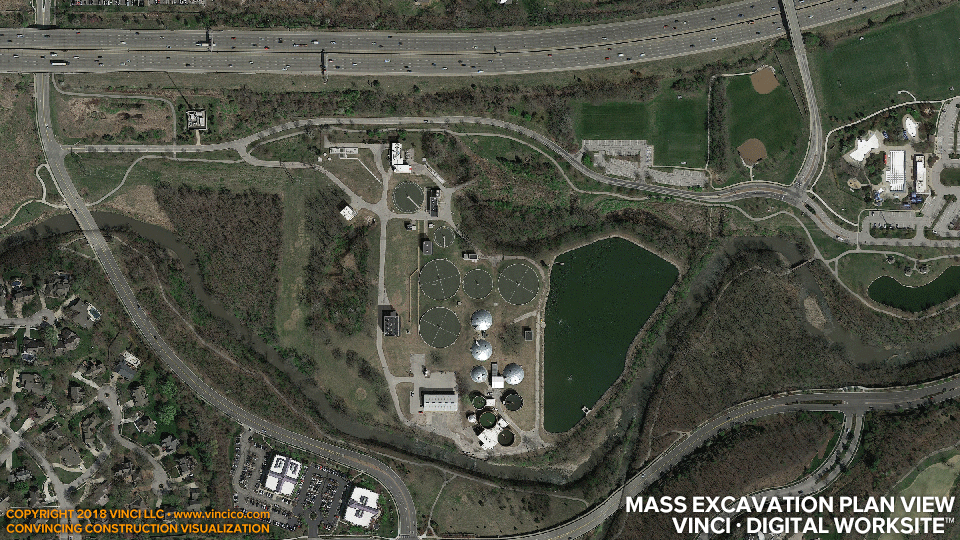 Vinci Digital Worksite™ | Mass Excavation Plan View.
Can you dig it? If you can describe* it, Vinci LLC can too! Whether you use steel pile, lagging, or layback, Vinci can cut your site to fit your team's excavation strategy. This is a broad riverine site that will receive a massive cut and fill operation across the duration of the construction schedule. The Owner is accustomed to a plan view, thus we use such in portraying cuts & fills here. * "Describe" includes any drawings or standards your team has on hand. Vinci LLC has cut hundreds of sites and can use artistic license and rules of thumb to strike a pile, lag wall, shotcrete cut, benching, or layback to suit your needs. Never fear! Vinci excels at schematic cuts or mass excavation images even given only your team's verbal directive.
Click for more: plantwide schedule; mass excavation highlights, demolition, worksite model detail, facility highlight, cutaway. Go behind the scenes to see terrain or context modeling, preliminary facility scheduling. Check out excavation on other projects.

This page last modified Friday 9 February 2018.